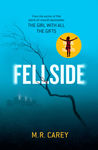 Fellside
by
M.R. Carey
My rating:
4 of 5 stars
Wonderfully well written intriguing supernatural thriller full of fascinating characters. Really dont think it should be categorized in the horror section at Indigo though. The horror in this tale is more the evil that we can do to each other and how our pain can turn us into monsters. I was a wee bit disappointed only because I was expecting something more creepy like The Girl with All the Gifts. This has nothing to do with the talent of the author, just my expectations of what this was going to be. I was just expecting something more creepy, and this is more of a Prison drama. Again, not a bad thing, just I was expecting something very different
Jess is a unreliable narrator and very damaged, but you find yourself intrigued by her and hoping she will make it. She's oh so very human and her development from someone to be pitied to, well I cannot go into more as that would ruin the story, is fabulous. The secondary characters are also fully developed, no one is a caricature or acts in ways that you see coming. The plot is interesting, with some wondrous moments of true uniqueness but I felt like it was trying to be too many things.
The pacing of the story is a little off, and the story drags a wee bit, but the writing is what keeps you interested. Though I didn't love this one, I will still pick up his next book.
Favorite Quotes
"Clearly there was no God, no justice, nobody at the switchboard. The universe was a badly written soap opera where every plot twist strained credibility just that little bit further."
"Only our souls were made not out of wood and nails but out of the good or bad things we did."
3.5 Dewey's
I borrowed this one from a friend, and am in no way required to share my opinion
View all my reviews