Drama: An Actor's Education
by John Lithgow
HarperCollins
ISBN: 978-0-06-173497-7
Release Date: September 27, 2011
Buy from
Indigo
Description
: Through the vivid stories in "Drama", John Lithgow shares a backstage history of his struggle, crisis, and discovery, and the scenes of his early life and career that took place before he became a nationally-known star. Above all, "Drama" is a tribute to the most important influence in John Lithgow's life: his father, Arthur Lithgow. An actor, director, producer, and great lover of Shakespeare, Arthur brought theatre to John's boyhood, where performance and storytelling were a constant and cherished part of family life. Lithgow brings the theatre worlds of New York and London to life as he relives his collaborations with renowned performers and directors including Mike Nichols, Bob Fosse, Liv Ullmann, Meryl Streep, and Brian De Palma. Lithgow's ruminations on the nature of theatre, performance, and storytelling cut to the heart of why actors are driven to perform, and why people are driven to watch them do it. At once hilarious and reflective, "Drama" pulls back the curtain on the making of one of our most beloved actors
The Good Stuff
Charming and honest
Hilarious and self deprecating
The bit about how he got out of Vietnam is very honest and you really can feel his shame about what he did - honest and powerful
Loved how he talked about his Dad and his faults but never laid blame and owns up to his own mistakes
Fascinating information about the theatre scene during the sixties and seventies
Great background information on some now famous stars
Never gossipy, tacky or lurid, although some real life actors are very thinly disguised (hmm Cliff Robertson)
Impressed with his writing style, sort of like he is talking to you
Loved how he talked about how lucky he was to have had the contacts and the luck he did. Comes right out that he got his breaks it due to nepotism - very frankly done
There better be a second book because I am very interested in his stories about his tv and film career
The Not so Good Stuff
Hoping there is going to be a second memoir that explores his later life and career. Slightly disappointed that there is very little about his movie and TV career, as this is how I was introduced to his talent (his portrayal of Roberta in The World According to Garp is brilliant and on Dexter he creeped the s**t out of me he was so good)
Some of it comes across as a little theatrical pretentious but he's up front about that and it is something that is prevalent in most actors, so not really a bad thing, just more of an FYI
Favorite Quotes/Passages
"All of this urgent artistic activity took place before I was ten. Years later, big sister Robin told me that she'd found it all insufferably pretentious. Looking back, I have to agree. But at the time, and for many years later, I was deadly serious."
"Adults never entirely forget that they are watching actors pretend. You can certainly have an impact on them. You can surprise them, move them, shock them, and make them laugh. But you're not fooling them for a moment. Adults always sit in the theatre with the smug, unwavering knowledge that they are watching a calculated piece of fiction. Not so children."
"Before he went to sleep, Dad thanked me for the story as if I had given him a treasured gift. But he'd given me a gift, too. It was the gift of a father's love.:
Who should/shouldn't read
Fabulous for fans of Lithgow and his stage work
Theatre buffs will also enjoy
Those who were looking forward to more tales of his TV and movie career, will be a wee bit disappointed
4.25 Dewey's
I received this from HarperCollins in exchange for an honest review- Thanks guys, now I am totally counting down the days to his signing -- hope not to gush too much when I meet him -- hmm wonder what cookies I am going to make for him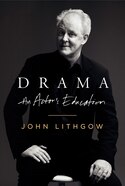 In Person: John Lithgow
About this event:
Meet award-winning actor John Lithgow as he shares his fascinating memoir and backstage history of an illustrious career, Drama: An Actor's Education.